E-mail Etiquette Tips & Tricks
May 21, 2019
---
---
Hello Warriors!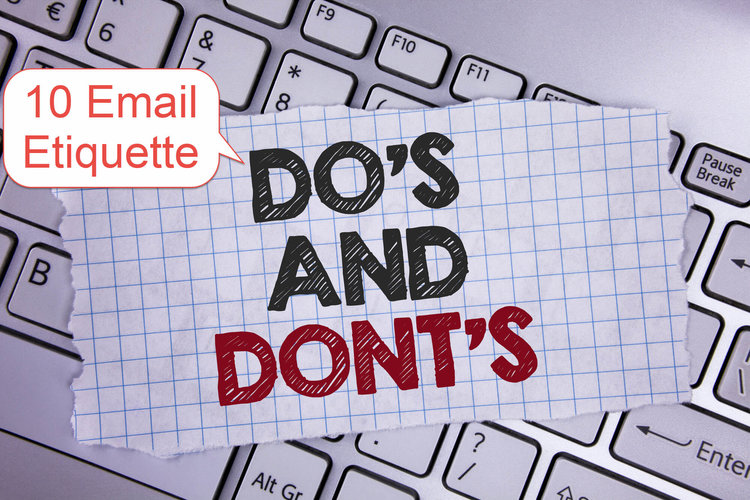 With spring cleaning in full effect, People Services thought it would be a good time to talk about the area in most of our professional lives that tends to need the greatest amount of tidying, our e-mail inboxes!
We've all been there, we finally get that little blue number next to our inbox below 10! And then… you sneeze (because with this beautiful weather comes the beautiful blooms and pollen we all love so much). When you open your eyes again, your inbox is back to 50, with thank you's, CC's and spam.
This is why we wanted to outline some friendly tips and rules on e-mail etiquette. Please see below some ways we can make this essential mode of communication more useful and less cluttered this spring, and beyond!
Know Your Audience: Make sure you keep e-mail professional and appropriate. The use of emoticons and abbreviations may be appropriate to send amongst co-workers with whom you are very familiar and friendly (your BWFs, best work friends), but if you are addressing someone for the first time or outside partners of CleanSlate, make sure you are appropriately informative, polite and professional in your communication.
Subject line: Make it searchable and specific. Many use the subject line to search a specific email that may have held information we need weeks or months later, or to remind ourselves about action items we need to complete. Make sure you use the subject line to specifically and quickly summarize what your email contains.
Email Content: Keep it short and sweet. We all know that person who must moonlight as a novelist in their free time (my hand is raised), but do try to keep your e-mails to the point. Provide the information requested, be clear about any action items or next steps you expect from the recipients, and close out your email.
Respectful and compassionate communication: Remember that we are all Warriors, and our core values should shine through each and every interaction we have with each other, our patients, and outside partners. Answer questions thoroughly and thoughtfully. Go the extra step to be helpful, polite and considerate. The easier you make it on the person you are e-mailing to understand your information, your requests, their responsibilities, the more time they have to focus on what we are all really here for, and that is taking care of the patients.
Don't hide behind E-mail: If the information you are presenting is complicated, or you are 2 to 3 emails in to an e-mail string that may just be becoming more and more confused, pick up the phone and call the person. It is always more pleasant to have a friendly conversation than a string of 25 confused emails. Follow-up your call with an e-mail if the information is important to memorialize.
Review your e-mail before sending it: We are all busy and more often than not multi-tasking. This can lead to unfinished thoughts, typos that are unrecognizable, or Siri could have been a bit inappropriate when dictating your voice to e-mail. Take a moment to read your e-mail through and edit before sending.
Make sure you are careful with confidential information: Double check who you have in your recipient bar. Make your e-mail secure if you are sending PHI to colleagues or appropriate outside partners. It is everyone's job to protect the safety of PHI and confidential information.
Keep responses on topic: I know it might jog your memory that you had been meaning to ask your manager about your time off request, but responding to their e-mail about a new center process with this off-topic question makes it difficult to keep track of conversations, or search inboxes for related information if necessary (see #2). Open a new email string, or respond to an old one that is appropriate to the question or comment you are sending.
Recipients: Make sure your To's, CC's and BCCs are all appropriate. We all get tons of e-mails each day. Only add someone to the "To" line if the information is directly meant for them, or if they are meant to act on an action item. CC's should be those who may need to be aware of the information, but have no responsibility when it comes to the content.
Beware the reply all button! Reply all can be the fastest way to bog down someone's email with unnecessary content. Only reply all when it is appropriate that everyone, recipients and CCs alike, need to have the information you are sharing. Otherwise, edit the recipient list in your response.
Following these 10 tips and tricks on e-mail etiquette will surely have your colleagues thanking you for the extra time they have in their day, that would have been spent decluttering unnecessary emails from their inbox or trying to understand unclear or misdirected e-mails.
They may even be so grateful that they send you an eCard (which is one piece of e-mail everyone enjoys receiving, and can be sent using the Warrior's Excelling link on the homepage of the intranet : https://cleanslatepro.engage2excel.com/).
Please send me a note to ehenderson@cleanslatecenters.com, with a clear subject line, appropriate and succinct content, nicely edited, if you have any questions, comments or concerns. Or, you can follow number 5, and pick up the phone and give me a call, I'd love to hear from you.
Respect & Compassion Always, and Together We Succeed!